VITAMIN K3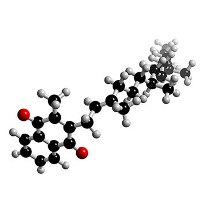 Vitamin K3 is powder strewn containing at least 51, 5% of menadion.
The Usage:
Vitamin K3 is coagulation vitamin. If there is deficit of this vitamin increase of pro thrombin in blood appears by which the coagulation time needed is increased.
Lack of vitamin K3 is seeable with poultry only (then appears anemia and under skin hemorrhage, and the rest of domestic animals synthesize it. It can appear in two other forms: as K1 and as K2. Vitamin K1 is found in vegetarian nutrition, and vitamin K2 in fish powder .
Storing Conditions
The product is to be kept at clean and dry storages, protected from the sunlight, at a temperature below 25 % C.
The Term of Use
2 years.
Manufacturer
DSM Nutritional Products Europe Ltd.