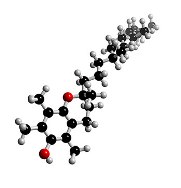 VITAMIN E50
Description of Product: Vitamin E 50 is a powder, white to yellowish color containing min 50% of vitamin E. By its qualification it belongs to alcohols. Several forms of tocopherol: alpha, beta, gamma, delta were isolated. Of the highest quality is alpha tocopherol. It is heat resistant and it is well maintained in mixtures of nutrition, but it is broken down in fats kindled. In animal organism this vitamin is found in somewhat bigger quantity in adrenal gland and in milk fat.
The Usage: In manufacturing of pre mixes and components for live stock nutrition, mineral mixtures and replacements for milk skimmed in powder. Vitamin E was called anti sterility vitamin, because it was ascertained that its presence for normal reproduction is indispensable. Lack of the same causes fertility decreased, dystrophy of muscles, impairment of heart muscle, necrosis of liver, at cetra.
Storing Conditions: Vitamin E 50 is rather stable at air, but it is unstable in contact with light and moisture. Temperature in the storage has to be bellow 25 C. Packs opened have to be used up in as much as possible short time. Persons coming into contact with the product ought to avoid inhalation of powder and apply indispensable protective measures and personal hygiene.
Manufacturer:
DSM Nutritional Products Europe Ltd.
SINTOFARM a.p.a Italy
Shelf-life:
4 years - DSM Nutritional Products Europe Ltd. Switzerland
2 years - SINTOFARM a.p.a Italy
Packaging:
25 kg bags.