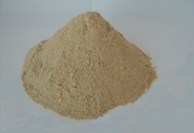 EKOFISH MEAL
Herbal protein-rich feed ekofish meal  is a long waited product on the market which completely substitutes fish meal, avoiding all its negative effects (such as various deseases due to animal proteins, very strong smell passing on eggs, milk and meat, proteins that easily decays, and decomposition of proteins to the harmful products under the influence of microorganisms). For such shortcommings, many countries have banned fish meal.
Having in mind all drawbacks of fish meal, and not forgetting good nutritive characteristics, with studious and thorought work, protein rich and high quality herbal replacement for fish meal EKOFISH MEAL is made, which substitutes nutritive characteristics and avoids all negative components of the fish meal.
Herbal replacement for fish meal EKOFISH MEAL is a very tasty and easy digestible feed, which represents a unique source of protein (minimal 60%), essential amino acids, soybean oil, lecithin, minerals and vitamins soluble in fat.
EKOFISH MEAL is produced using modern technological equipment that enables an output of hygienically correct and health-safe animal feed.
Basic feedstock are highly concentrated soybean proteins enriched with other additives, which completely substitutes fish meal (proteins, energetic values, and minerals and all other aspects).
| Chem.composition | Protein | Moisture | Fat | Fiber | Ash |
| --- | --- | --- | --- | --- | --- |
| EKOFISH MEAL | min 60% | max 8% | min 5% | max 4% | max 7% |
The Usage: In the animal feed industry
Characteristics:
Exceptionally high quality protein
High level of essential amino acids
Easy digestible
High level of total fats
Lasting and durable
Economically efficient
Effects:
Better consumption
Rapid weight gain
Reference: Gebi Čantavir, Stari Tamiš AD Pančevo, Hrana Produkt d.o.o. Sremska Mitrovica, Comp. Astor doo Odžak, Naučni institut za stočarstvo, Živinopromet Despotovac, Agroplus Kragujevac, Dragan Marković Obrenovac, Eraković d.o.o. Bečej, FSH Jabuka Pančevo, Polj.gazd.Vešić Vladimir Glušci, VS ZOO Lek Badovinci, Farmer d.o.o. Svilajnac