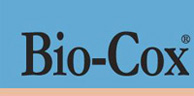 Bio-Cox 120G
Bio-Cox 120G is a premix in animal feed preparation, 1x20 kg (for use on animals).
1. NAME AND ADDRESS OF MANUFACTURERS
ALPHARMA B.V.B.A, Laarstraat 16, Antwerp, Belgium
Name and address of the importer and the holder of licence for trade: Bankom Ltd, Belgrade, Bulevar Nikola Tesla 30, Belgrade, Serbia
2. NAME 
BIO-COX ® 120G salinomycin (120 mg / g) premix for medicated feed broilers
3. QUALITATIVE AND QUANTITATIVE COMPOSITION
1g Premix for medicated feed include:
Active substance:
Salinomycin sodium 120 mg / g
Excipients:
Calcium lignosulfonat, calcium sulfate, dihydrate
4. INDICATIONS
Prophylaxis broiler coccidiosis caused by coccidia: Eimeria acervulina, E. maxima, E. tenella, E. nectarix, E. Brunetti and E. MIVAT.
5. Contraindications
Do not give turkeys and horses. This product can not be given together with tiamulin, or 7 days before and after its application because it can lead to growth suppression and death.
6. ADVERSE EFFECTS
If the medicine is applied in accordance with the instructions, side effects were not recorded.
7. TARGET SPECIES OF ANIMALS
Broilers.
8. DOSAGE AND METHOD OF APPLICATION
BIO-COX 120G is applied orally
Dosage, broiler chickens:
BIO-COX 120G 0.42 to 0.58 kg / ton
Salinomycin sodium 50-70 mg / kg
9. INSTRUCTIONS FOR PROPER USE OF DRUG
In order to achieve uniform dispersion, first stir the required amount of Bio-Cox 120G with ten times the quantity of feed or any of its ingredients, before blending into the final blend. It is intended only for the production of medicated feed.
10. Withdrawal
Origin and offal: 1 day
11. SPECIAL WARNINGS FOR CARE MEDICINE
Store in a cool dry place below 25 ° C, protected from light.
Shelf life 2 years
Shelf life after opening - use immediately
Shelf life after living in the mixing of food 3 months
12. SPECIAL WARNINGS
For use on animals.
Do not give turkeys and horses. Do not apply the parent flocks of laying hens or eggs. Salinomycin may not be simultaneously used with other drugs antikokcidijalnim. Salinomycin interakuje with erythromycin, sulfonamides, and tiamulin.
Special warnings for people who give animals medicine:
When mixing medicine with food to avoid direct contact with skin or mucous membranes, and should wear gloves and masks, as well as appropriate protective clothing. If the medicine gets into your eyes, flush plenty of water. When using do not drink or smoke and eat. Wash hands after use. If you experience an allergic reaction, seek medical attention immediately.
13. SPECIAL MEASURES FOR DISPOSAL OF UNUSED MEDICINAL PRODUCTS OR REST OF MEDICINE
Unused drug or drugs the rest are destroyed in accordance with applicable regulations.
14. DATE OF APPROVAL TEXT USER INSTRUCTIONS
December 2010.
15. OTHER INFORMATION
Packaging: 20kg Multilayer bag
Availability: The drug to be dispensed only by prescription vet
ATCvet code: QP51AH01
License number: 688/2010/1400 of 28/11/2010.