BIOTIN H2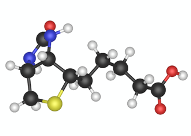 Product Description: Biotin H2 is a product appearing in a form of fine powder, mainly of white color, to light yellowish. It contains at least 2% of biotin.
Biotin H2 has been used in manufacturing of pre mixes and components for live stock nutrition, as well as in manufacturing of liquid nutrition for animals. Vitamin H2 is indispensable in embolic processes and it is deemed essential in maintenance of normal metabolism. Symptoms of lack of this vitamin are changes on the skin, falling of hair, slowing down of growth, lowering of quality of eggs for hatching.
Storing Conditions: Biotin H2 is stable on the air, while it is rather unstable in contact with light and high percentage of moisture. The product has to be stored in dry premises, protected from direct influence of sunlight, at temperature, which is lower from 25 C. Packs, which are opened, have to be used up in a very short period of time. The product is safe for handling. Inhalation of powder is to be avoided, with the use of protective measures and personal hygiene.
The Term of the Usage: 3 years
Manufacturer: DSM Nutritional Products Europe Ltd.