BIOPRO 55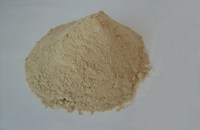 Herbal proteins concentrate Biopro 55 is high-vegetable protein for animal feed, thermally processed and partialy fatless dehulled soyabean flour, soya protein isolate and rise protein.
The usage: Biopro 55 is used in complete feed (5-10%) and in supplementary feed (15-20%) for all domestic animals.
Maintenance: It is to be kept in dry, cold, ventilated and dark place.
Shelf life: 9 months
Packing: 25 kg
| Chem. composition | Protein | Moisture | Fats | Cellulose | Ash |
| --- | --- | --- | --- | --- | --- |
| BIOPRO-55 | min 55% | max 8% | min 5% | max 4% | max 7% |