Textured soy protein TEXPRO - S (Slices)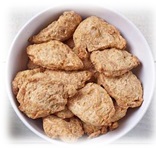 Our textured soy products are manufactured in up to date procedure of extruding our made of soybean with higher protein content, in the form of minced, chunks and slices. They are a source of proteins i.e. essential amino acids as well as minerals and vitamins which are significant for the entire metabolism. Anti-nutritive factors are deactivated using proper heat treatment thus increasing protein utilization. Textured soy protein products have a high nutritional and biological value.
Soy protein slices are made from defatted soy flour that is compressed and processed into slices. During this process, the structure of the soy proteins changes in fibres.Most soy protein slices are produced from defatted soy flour, soy flakes or soy concentrates with an extrusion process. This extrusion technology can form a fibrous matrix which is almost similar than that of meat.They are made in our manufacturing company.
The principal use of texturized soy protein products is as a meat extender in meat product such as patties, fillings and meat balls etc. Up to 30% of the meat can be replaced by hydrated texturized soy products without loss of eating quality.
Similar products:
We also have textured soy protein in form of chunks, you can see it on the following link Textured soy protein TEXPRO – C (Chunks).
Chemical characteristics:
Composition
Typical values %
Guaranteed values %
Protein (N * 625)
%
53,0
min. 51
Water
%
7,0
max. 8,0
Fat
%
1,0
max 1,5
Fiber
%
3,5
max 3,5
Ash
%
6,5
max 6,5
PDI(Protein dispersibility Index)
* Moisture free basis
%
39,5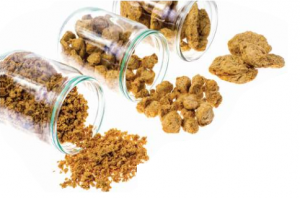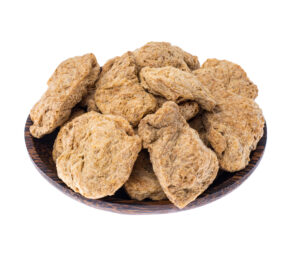 Product title
Granulation
Color
Typical hidration %
Texpro - N Minced

1,0 - 4,0 mm
min 85%
natural
350
Texpro - R Minced
1,0 - 4,0 mm
min 85%
red (meat color)
350
Texpro - N Minced
0,075 - 1,0 mm
min 85%
natural
300
Texpro - R minced
0,075 - 1,0 mm
min 85%
red (meat color)
300
Texpro - H chunks
5,0 - 20 mm
min 85%
natural
220
Texpro - N slices
40 - 80 mm
min 85%
natural
200
       It is applied in:
Meat industry
Baking Industry
Catering Industry
       KEY BENEFITS
Provides meat-like, particulate texture
Pleasant, neutral flavor
Reduces shrinkage and improves shape retention in ground meat applications
Nutritional and economic function