Hotel Leotar, Trebinje, Bosnia and Herzegovina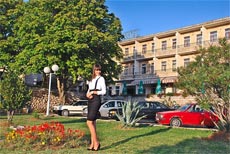 Enterprise for hospitality-tourism services, Leotar, Trebinje, was built in the year 1993 in Herzegovina and Mediterranean style and it is located in the city center, along the very coast of the River Trebisnjica.
In its composition it has a hotel and more objects and lands on various locations in Trebinje and it surrounding area. Trebinje attracts all those who look for spiritual and cultural values, or relaxation with soft sound of the river Trebishnjica and a smell of Herzegovina grasses. A place with a mild climate, with sunny summers (262 sunny days in a year) and mild winters (January average is +5,2 C), within reach of the sea side (35 km herceg Novi, 25 km Dubrovnik), linked with coasts of South of the Adriatic Sea.
At the middle of the year 2005, the activities on the reconstruction of a hotel started off, the activities for obtaining consents and permits of competent authorities, of commune Trebinje, for building of indoor swimming pool and associated tennis courts with associated services, and a covered summer garden between the hotel and the river Trebisnjica.
Give us feedback