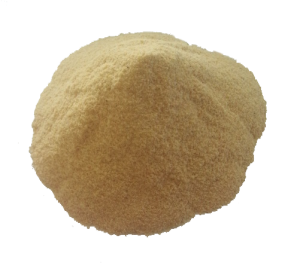 BIOPRO 35
Full fat soy grits Biopro 35 is manufactured of healthy, hulled soybean, by a special hydrothermal treatment within which oil is not extracted out. Hydrothermal treatment of soybean provides a product of high nutritious and biological value with deactivated anti nutritious factors without the usage of chemical reagents by which usability of proteins is improved. Besides, natural ratio of high value proteins, soybean oil, lecithin, minerals, and vitamins soluble in fats remains uninterrupted.
Biopro 35 je značajan zbog svojih funkcionalnih osobina: emulgovanja, stabilizovanja, vezivanja i zadržavanja vode, sprečavanja užeglosti masti – usled prirodno visokog sadžaja tokoferola. Upotrebom Biopro 35 povećava se hranljiva vrednost, poboljšavaju organoleptička svojstva, kao i održivost finalnog proizvoda.Biopro 35 se zavisno od potrebe proizvodi u različitim granulacijama, u rasponu  250-500 mikrona..
Dodavanjem Biopro 35  povećava se ekonomičnost, zbog korišćenja veće količine vode pri formiranju zamese, poboljšanja hranljive vrednosti, kvaliteta, boje i ukusa.Upotreba Biopro 35 utiče i na smanjenu potrošnju jaja i masti i poboljšava raspodelu masti i šećera.
Chemical composition
| Humidity | Protein | Fat | Ash | Fiber |
| --- | --- | --- | --- | --- |
| 3-4% | 40% | 23% | 5% | 2% |
Usage: for confectionary and bakery industry